COVID-19 measures:
We take extra caution to serve you and schedule may change due to the situation.
Thank you for your understanding and we look forward to your reservation!

Savor authentic sushi made with care 
at Tokyo Jiyugoka
Sushi is simple.

Nothing complex is done.
Yet its simplicity makes it profound.

Fresh is served fresh and preparation is done with care.
Please enjoy the freshly made sushi, gently hand-made one by one, with carefully selected finest ingredients and deliciously made earthen-pot cooked rice.

Our restaurant has a bright and welcoming atmosphere surrounded by Cypress (Hinoki) wood. Edo-mae authentic sushi is prepared on a beautifully polished black marble and our iconic 6 meter-long hinoki wooden board counter.

High-end Sushi restaurants in Japan may be intimidating.
We hope to offer you a place where you can savor authentic sushi relaxed with our friendly atmosphere.
(If you would like, our English speaking staff will teach you all the manners and culture of Sushi!)

Our goal is to provide positive energy to our customers through our meal and for you to feel energized after visiting us.

As our customer, your smile is our energy and motivation.





【Food Menu】
DINNER
"Omakase" Chef's selection Full Course   20,000 yen (incl. tax)
・Seasonal Side dishes  approx. 5-6 dishes
・Fresh Nigiri sushi   approx. 12 pieces
・Soup and Japanese Egg omelete
LUNCH & DINNER 
"Omakase" Chef's selection Nigiri   5,000 yen (incl. tax)
・Fresh Nigiri sushi   10 pieces
・Soup and Japanese Egg omelete
【Drink Menu】
Soft drinks and alcoholic drinks such as beer, sake, shochu, whiskey and white wine are available. 
※ Red wine in unavailable as it stains the wooden table.
Should you wish to bring your own alcoholic drinks, there is a charge for 4,000 yen (incl. tax) per bottle.  
(Red wine and outside food are not allowed.)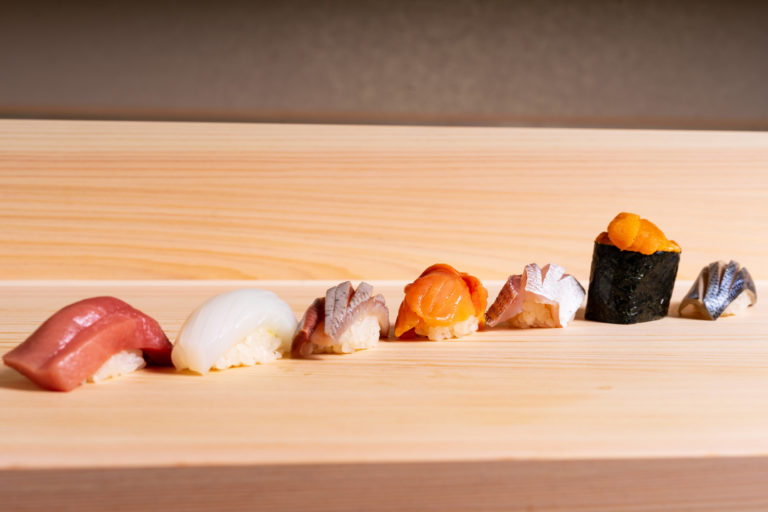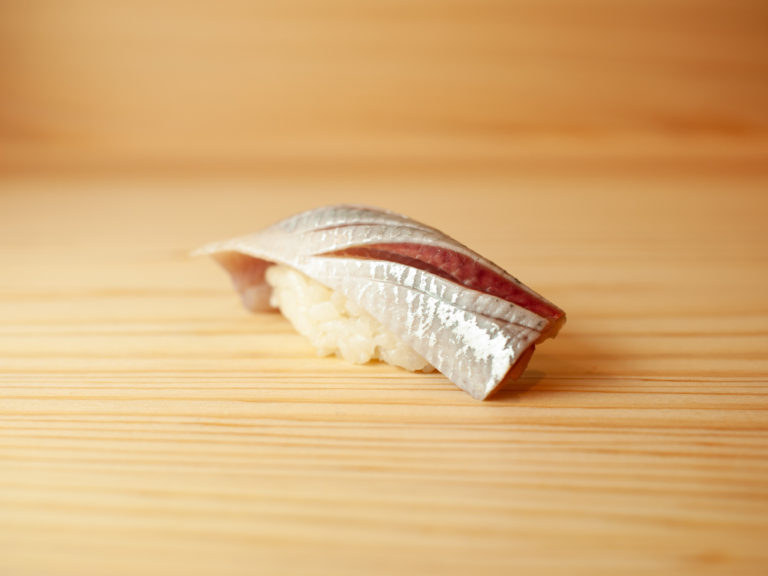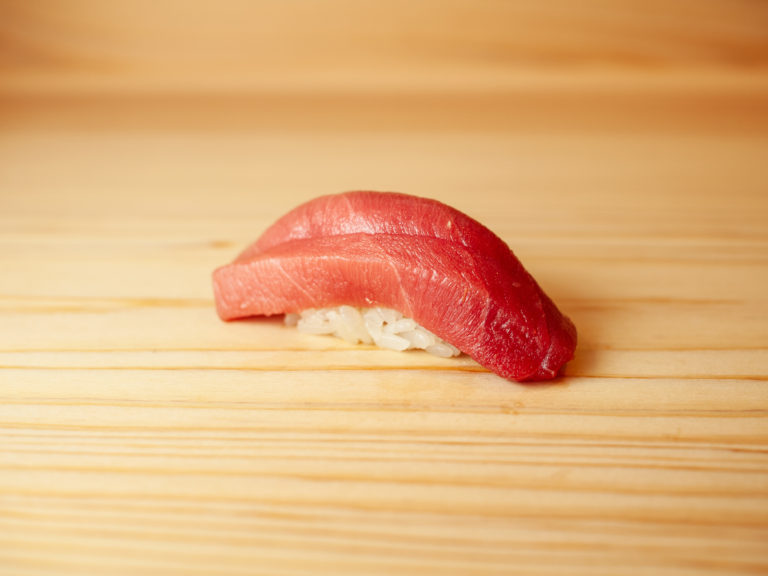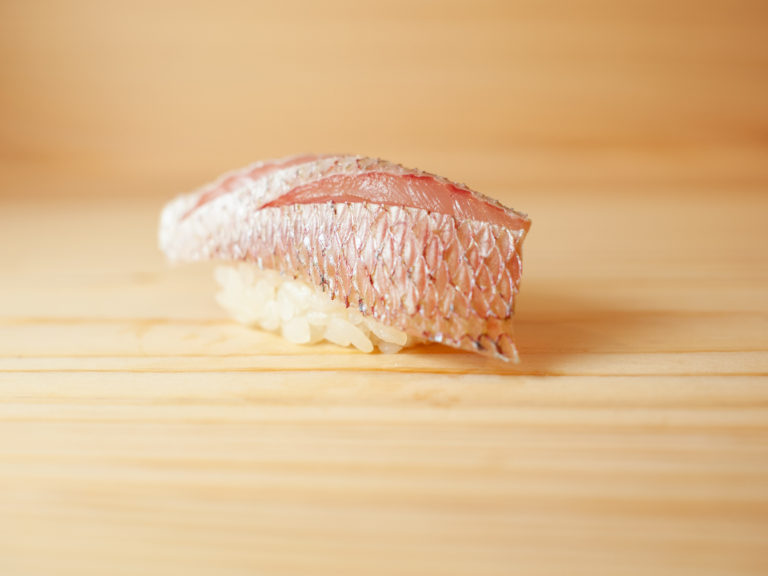 【Tips to enjoy the meal】
Sushi is best eaten fresh, warm dishes when it is warm and cold dishes when it is still cold. Please enjoy the meal as soon as it is served to get the most out of your experience.
We hope you enjoy the meal with all five senses! To make this happen, please refrain from using strong scented perfumes and fragrances.


Operating days and events are shown on the calendar below.
We update announcements and photos almost every day on Instagram!
(Posts are made on Facebook Page automatically. Please use Instagram for inquiries.)
Follow us↓


We do have English speaking staff on certain days.
To make sure we can serve you the best, we kindly ask our foreign guests to reserve beforehand through the following site.
Reservation is available 24 hours.
Please check the CALENDAR for our operating dates.
We look forward to serving you!
↓↓Please click the following "Reservation" button to reserve↓↓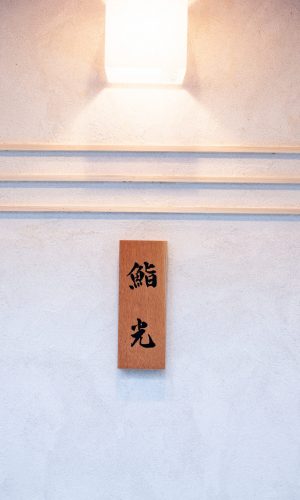 Q:  May I take photos?
A:  Of course, you may take photos of the meal! When taking photos, we would appreciate if you could be mindful not to capture other customers in order to protect their privacy.
Q: I have food allergy and some dietary restrictions. Can you accommodate?
A: We serve sushi (raw seafood) and cannot offer menus free of raw ingredients, but please inform us of any allergies or special dietary restrictions in the reservation form. We will try to accommodate where possible.
Q: I have some inquiries. How can I reach you?
A: If you are reserving, please write your inquiries on the reservation form. For other inquiries, please use Instagram DM messages or through phone. (Please be mindful that our English speaking staff works only on certain days. )
Q:  Is the restaurant wheelchair friendly?
A: Yes, it is wheelchair friendly.
Q:  Can I take my children to the restaurant?
A: We would appreciate if you could let us know in advance.
Q:  Can I bring my own alcoholic drink?
A:  You may bring your own alcoholic drink for 4,000 yen (incl. tax) per bottle. Please understand that red wine is not allowed as it stains the wooden table.
Q:  We want to celebrate our anniversary there. Do you serve any cake?
A:  Unfortunately, we do not serve any cake. Should you wish to bring your own cake, please let us know in advance and we will be able to hold it for you and serve you at the end of your meal.
Q: Can I reserve the entire restaurant? What is the maximum capacity?
A:  Absolutely! You may reserve the entire restaurant from two people for the price of eight people (our maximum capacity).